Concrete Stair Installers in St Peters, MO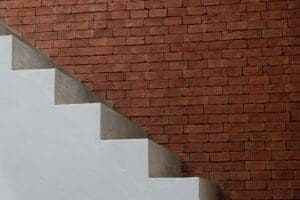 Do you need a new set of concrete stairs for your home or business in St Peters, O'Fallon, Chesterfield, St Charles, or the surrounding areas in Greater St Louis?
Trust the company that builds the best concrete stairs in Missouri - St Peters Concrete!
St Peters Concrete is a locally owned and operated concrete business that specializes in the production of high quality concrete stairs. Our stair contractors understand the value you place on your home or business, and know when you hire us to build new concrete stairs for your property you want concrete stairs that meet the highest standards of quality and reliability.
St Peters Concrete company wants to earn your business. Let us help you by building you a new set of concrete stairs today. We build stairs with an eye to detail. We make sure stairs are evenly spaced and level according to customer requests. We strive for 100% customer satisfaction on all our projects including stair builds. We believe we build the best concrete stairs in Missouri.
At St Peters Concrete, we use only the highest quality materials for all of our stair builds. When we install a new set of stairs for you in St Peters, O'Fallon, Chesterfield, St Charles or the surrounding areas, you are getting the best concrete stairs money can buy.
We know we're only as good as our last job, so at St Peters Concrete we work hard on every project. We would love to build your stairs for you. If we can help you with a new stair addition for your porch, front door, back door, elevated patio, or any other structure or surface needing concrete stairs, we'd love an opportunity to do so.
Free quotes are available for your new concrete stairs. Please give our concrete stair experts a call at 636-235-0150 and let us evaluate your stair project for you.
We build stairs all over the Greater St Louis area and would love for you to be our next satisfied stair client. Please give us a call about your new stair installation or fill out the quote form on this website. One of our friendly stair experts will get in touch with you soon about your new stair construction.
We look forward to building your new stairs for you in Missouri.