Commercial Concrete Contractors in St Peters, MO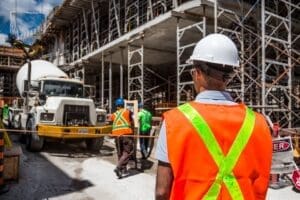 When it comes to your commercial property, St Peters Concrete knows you only want to hire the best. Whether it's concrete pouring, concrete finishing, or concrete repair, the professional contracts at St Peters Concrete will treat your commercial property with care and our quality craftsmanship speaks for itself.
We employ highly skilled contractors who take pride in doing a job right the first time. Our concrete work meets only the highest standards of quality. St Peters Concrete will go above and beyond to make sure every bit of your commercial project meets local codes, and we strive for 100% customer satisfaction on every job.
We provide commercial installation and repair for:
Parking lots
All concrete services
Culvert pipes
Curbs
Roadside gutters
Commercial concrete flatwork
Commercial sidewalks
Warehouse flooring
Garage flooring
And much more!
For exterior parking lots we ensure proper drainage systems are in place and use the latest techniques for proper water flow. Our professional contractors follow the high quality standards we have in place to ensure your new commercial parking lot installation will last for years to come.
A curb and gutter system will ensure proper water drainage. Culvert pipes under driveways will direct the flow of moisture where it needs to go. All of our culvert pipes are made from extremely strong materials that make the structure very strong. Our culvert pipes, like all of our products, are built to last.
If we can help you with your commercial concrete project, give us a call for a quote today at 636-235-0150
You may also fill out the free quote form on this website and one of our friendly commercial concrete professionals will be in touch with you soon.
St Peters Concrete delivers complete service from start to finish. Your company is important to you. Let us assist you with your commercial concrete project today. You will not be disappointed when you hire St Peters Concrete. We employ the finest concrete contractors in Missouri.
St Peters Concrete - serving our commercial concrete customers in St Peters, Chesterfield, O'Fallon, St Charles, Dardenne Praire, St Louis, and the surrounding areas in Missouri.
Contact us today: 636-235-0150