Concrete Additions in St Peters, MO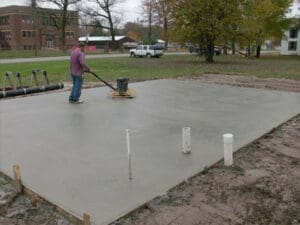 Are you at a point where you need to add on to your home or business? St Peters Concrete Company can help you with your concrete addition no matter the size.
St Peters Concrete handles the professional installation of concrete slabs, concrete driveways, concrete walkways, concrete sidewalks, concrete foundations, parking lots, and much more.
Preparing for a home expansion or quality remodel? Your new concrete addition will add value to your property and increase curb appeal. We have the expertise to meet all your concrete addition needs be you a commercial or residential customer.
At St Peters Concrete, we take pride in our craftsmanship and use only the highest quality products in all our concrete installations.
St Peters Concrete utilizes state of the art equipment to allow our concrete crews to operate efficiently and to ensure the highest level of quality in all our concrete work. Our concrete contractors and crews work hard to ensure 100% customer satisfaction. When you hire St Peters Concrete, you are hiring the best concrete contractors in the St Peters, O'Fallon, Chesterfield, and St Louis area. We are the first choice concrete contractor in Missouri for a reason.
If we can help you with a concrete addition, please call us for a free quote at 636-235-0150
You may also fill out the free quote form on this website and one of our friendly concrete contractors will contact you soon to evaluate your needs as it relates to a concrete addition or other concrete related work.
St Peters Concrete - the best concrete contractor in Missouri. We look forward to earning your business.