Professional Concrete Removal in St Peters, MO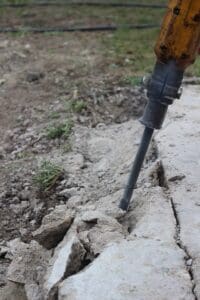 Concrete removal is a big job, even if you're needing to remove only a small amount of concrete. Anyone who has tried to move a block of concrete knows how heavy it is and how easy it is to get injured in the concrete removing process.
Do you need concrete broken down and removed from your home or business in St Peters, O'Fallon, Chesterfield, St Charles or the surrounding areas in Missouri? Contact the quality concrete contractors at St Peters Concrete and inquire about our professional concrete removal services.
St Peters Concrete company will have concrete professionals on the job quickly, and we will remove your unwanted concrete efficiently and safely. You will no longer have to worry about your unwanted concrete being present, nor will you have to struggle to remove it yourself at risk of injury.
At St Peters Concrete, our professional concrete contractors have years of experience removing concrete. We know all the tricks of the trade when it comes to concrete removal and construction cleanup.
We understand what your property means to you, whether you're a commercial customer or residential customer, and we take pride in all of our work. If you need concrete removal services, please call us at 636-235-0150
St Peters Concrete is a locally owned and operated, family-oriented concrete business. We would love to help you with your concrete removal today. Give us a call and let us earn your business.
At St Peters Concrete, we strive for 100% customer satisfaction in all our business dealings, and concrete removal is no exception.
We specialize in concrete removal in St Peters, MO. We remove concrete in O'fallon, Chesterfield, St Louis, Wentzville, Lake St Louis, Dardenne Prairie, Cottleville, and the surrounding areas in Missouri.
We want to earn your concrete removal business. Give us a call today for a free concrete removal quote at 636-235-0150
We look forward to hearing from you and removing your unwanted concrete.