Concrete Foundation Builder in St Peters, MO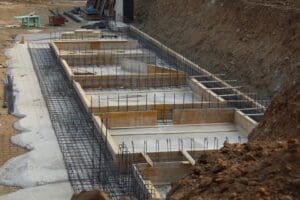 St Peters Concrete is Missouri's go-to concrete contractor for commercial or residential foundation work. We all know the importance of building a solid foundation, and at St Peters Concrete we take pride in the work we do on concrete foundations for homes or businesses in Missouri.
If you want your residence or business property to sit atop the most solid foundation money can buy, hire St Peters Concrete to lay the foundation for you. We have laid foundations in St Peters, O'Fallon, Chesterfield, Wentzville, Lake St Louis, St Louis, and the surrounding areas for years, and our work speaks for itself.
At St Peters Concrete, we know we're only as good as our last job. We take pride in our reputation as the best foundation builders in Missouri, and work hard to keep it intact by making sure every foundation we build meets the strictest standards of quality and reliability available.
St Peters Concrete is the best concrete foundation builder around. No concrete foundation job is too big or too small. Whether you need a concrete foundation for a large commercial building or a concrete foundation for a home, St Peters Concrete is the best concrete foundation contractor you can choose to hire.
If you're in the market for a new concrete foundation, give our friendly professional foundation builders a call at 636-235-0150
We would be happy to give you a free estimate on a new concrete foundation in St Peters, O'Fallon, Lake St Louis, Wentzville, Chesterfield, or the surrounding areas.
Our concrete foundations are as solid as our reputation. Trust us for your next commercial or residential build. We will build you a concrete foundation that will last.
Contact St Peters Concrete today for the best concrete foundation installation available in Missouri.