Professional Concrete Replacement Services in St Peters, MO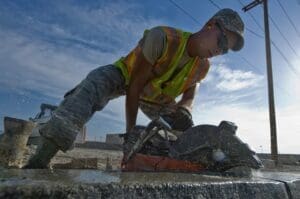 Do you have a concrete sidewalk or concrete driveway that has seen better days? Do you have a concrete patio, concrete walkway, or concrete retaining wall that is beyond repair? Are you in need of a total concrete removal and replacement for an item at your home or business?
Look no further than St Peters Concrete. We specialize in concrete replacement services for customers in St Peters, O'Fallon, St Charles, Chesterfield and the surrounding areas in Missouri. We would love to earn your concrete replacement business today!
At St Peters Concrete, we understand your concrete replacement project is important to you. We understand you want reliable concrete installed by a quality concrete contractor. We understand the value you place on your property and your desire to increase value and curb appeal through quality concrete construction. All of this is important to us too, because at St Peters Concrete we treat customer construction projects just like we were working on them for our own families.
The concrete contractors at St Peters Concrete build concrete patios, driveways, sidewalks, retaining walls, garden walls, stairs, and much more. We have years of experience in the concrete industry, and we follow the highest standards of quality possible in all our concrete work.
Our concrete contractors are the best in Missouri, we know our reputation is only as good as our last job. Because we strive to present customers with competitive prices and unbeatable customer service, our reputation as the best concrete contractor around is as rock solid as our concrete foundations.
If we can help you with a concrete replacement project through our professional concrete replacement services, please give us a call at 636-235-0150 for a free estimate today.
We will remove your old concrete and replace it with new concrete. We are the best concrete installers and concrete contractors in St Peters, Wentzville, Chesterfield, St Charles, Lake St Louis and the surrounding areas.
St Peters Concrete company wants to earn your business. Please give us a call today or fill out the free quote form on this website. We would love to meet all of your concrete construction needs today.